Color Changing Photo Booth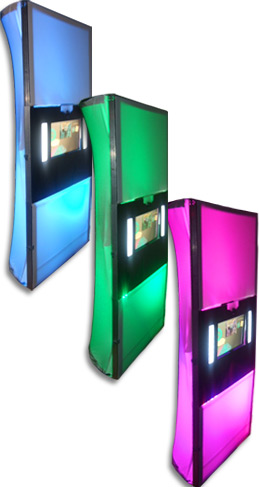 I am sure you have witnessed the awesome power of photo booths at events. Our smile generating machines are the perfect way to preserve those special moments. If you have never been inside an Encore Photo Booth, then you are in for a treat. We include great options that other company don't offer. In addition to the quality of equipment we use, you can also bundle lighting design or DJ entertainment. Package include:
Michigan Photo Booths
• Exterior and interior of shell lights up and changes
• Fully enclosed with black curtain
• Roomy design fits up to 15 people inside
• Large 19″ Touch screen monitor (choose selections)
• Print lab dye-sublimation photo printer
• Photos print in 6 seconds (other guys take 3 minutes)
• Enhanced 3-d layout
• Secure online image hosting
• Engraved USB flash drive (better than a CD)
• On-site photo booth specialist
You also can expect no limit on the color or black and white photos. Besides offering double prints, you can also choose to our Paparazzi package to get unlimited reprints on the spot. This way if 10 people go in the booth, 10 photos print.
Would you like to scrapbook your images? We make it easy for you, just bring about $10 in supplies with your book. Our attentive and personable photo booth specialist will put together your book on-site. All you have to do is bring the book + supplies, we will help you put together your scrapbook. You can even tell us which scrapbook style you prefer for the layout. Our goal is to reduce your stress without breaking the bank.
We have to admit, that our photobooths are so unique, that we hold a patent on our concept. Our company is known for building high quality machines here in the USA. When other photo booth companies are looking to expand, they contact us for new color changing booths.
Designs that Go Above and Beyond
You have complete control over your photo strip layout. You are able to design your footer from online and within our client login. This is a 3-d layout that really makes your strip stand out. If you already have artwork in mind, all you have to do is e-mail the files and we will use it in your strip. How will you personalize your event? Whether is your name or theme, we encourage clients to think outside of the box and get creative with what they would like. Our team of talented designers will send you a proof for your approval before the event. To see some recent examples, click on the thumbnails below to enlarge them. If you have any questions, you can contacting us through the website.

FYI: Our booths always use photo lab dye sublimation printers for your events. This ensures you get the best quality and highest quantity in photo prints. Your images will be waterproof and last for many years to come. Any photo booth professional you interview should use a dye sublimation printer! Read more about what other photo booth companies aren't telling you.
Bundle options & save time+money, get started & either email us here or call 877.643.8368