Design Your Own Custom Footer
Which Font Layout are You?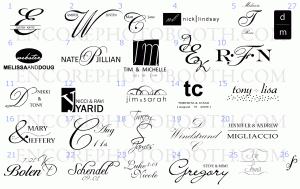 If you already have a logo or monogram in mind, then please e-mail it to us so that we can incorporate it into your custom footer area. If you would like Encore Photo Booth to design a font layout for you, then feel free to choose from our helpful list of 27 monogram samples. Click the image on the right hand side to get a larger view of our sample monograms. Keep in mind, that we can add/remove things like dates. We can even reposition text to give it a more streamlined look. Which monogram sample do you like best?
The Color and Gradient Breakdown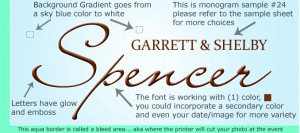 With regards to the background (color behind the text), you can work with no color (aka white), 1 color, or 2 colors (aka gradient). Next we will then work on the color of your font. We can use a wide variety of colors with your custom footer area, however the more colors we use, the more complex your design gets. We recommend working with primary and secondary colors to keep the design more streamlined. Our goal is to make sure your message area pops, so we might have to tweak the colors last minute to make sure the font is legible. Click the blue image on the left hand side to view a better explanation of colors and gradients.
Pick Your Own Hex Value Colors
Please click sample images below to get an idea of some of our work
For info on reserving your Encore Photo Booth, message us here or call 877.643.8368